Qno Access Point Controller

The increasing needs of businesses for information, as well as employees requiring on-demand access to the internet, have led to businesses deploying wireless networks. Qno's APC (Access Point Controller) complies with the CAPWAP standard and provides two major advantages to managing multiple remote APs. First, unifies management of remote APs to one central device. These remote management functions include: remote restart, settings reconfiguration, import/export settings, firmware upgrades, etc. Second, provides the ability to manage connected devices' behavior. Such as, allow or deny rogue APs, limit user's bandwidth, connection status checking of portable devices, such as smartphones, tablets and notebooks. These added functionalities not only gives the administrators the convenience of using one router to control multiple remote APs, but also gives clients a secure and stable WLAN connection. It also revolutionizes the traditional way of manually configuring and upgrading on each AP individually, greatly increase the operational efficiency of enterprises.
CAPWAP Compliant
Qno APC wireless devices management solution complies with the CAPWAP protocol, a global standard published by the IETF.
All auto-discovered APs are authenticated with Qno APC. Once authenticated, firmware will be upgraded if necessary, then a reboot is initiated, and finally the configurations are applied simultaneously to multiple APs. These are all done under the CAPWAP standard.
Compatible with all CAPWAP compliant devices.
Unified Central Management
Unifies the management of remote APs to one central device, the requirement of managing each individual AP separately is eliminated.
Settings or configuration changes can be applied simultaneously to multiple APs or the entire system, resulting in quicker discovery of problematic AP.
Supports remote management functions such as, remote restart, settings reconfiguration, settings import/export, firmware upgrade, scheduling, etc. from one central device.
Client Connections Management
Web-based management allowing administrators to easily monitor the connection status of APs and clients, as well as, to rectify problems as it occurs.
The IT staff can monitor the system status at any time, and then provision the security settings and parameters for smartphones, tablets or laptops as needed.
Network permissions management, for instance, allow or deny rogue APs or clients.
Fast Roaming
In a wide coverage area with multiple APs, through the Seamless Roaming feature on the APC, the user only needs to be authenticated once on any one of the APs, to have Wi-Fi access within the coverage area without the inconvenience of re-authentication when connecting to a different AP.
Provides an uninterrupted wireless service to users when roaming from one AP to another.
AP Chart
QNO AP can automatically connect with APC as its plug on. The AP will display on interface as it pass safety gate, IT manager will be able to manage and named APs.

Flow log: it provides daily, weekly and monthly chart to demonstrate flow and user numbers. Through those gathered information to adjust internet setting, in order to improve network fluency.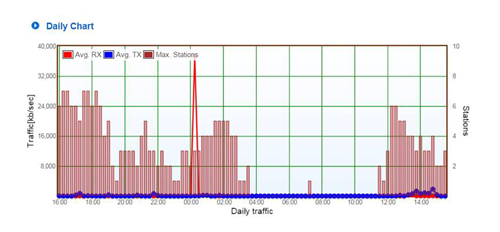 APC LAN-Floor View
Floor view shows all APs on the floor. IT managers enable to import floor map and mark AP's location. If there is any AP work dysfunctional, there will be a red cross sign on the floor view interface also inform IT managers.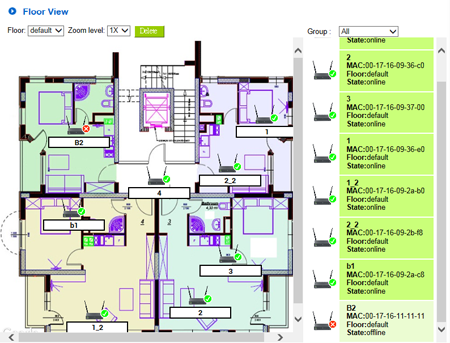 APC WAN-MapView
In APC WAN topology, APs can be monitoring through Google map. The past AP management method tend to be time-consuming and complicate, the map view has improved this problem drastically. As the QNO APC solution slogan "To see is to believe", manage what you see.