Qno Access Point Controller

Types of applications
1.Chain Stores or Franchises
With the popularity of smart devices, as well as the increase of demand for Wi-Fi services by visiting customers, whether while shopping or dining have resulted in all types of businesses deploying WLAN to provide a good shopping or dining experience for their customers. The Qno APC solution allows IT staff from HQ to upgrade firmware, device restart and change configurations of remote office or chain store's APs. Thus, not only does it provide a stable and reliable wireless connection to customers, but a secure and robust network to businesses' POS, OA or ERP systems.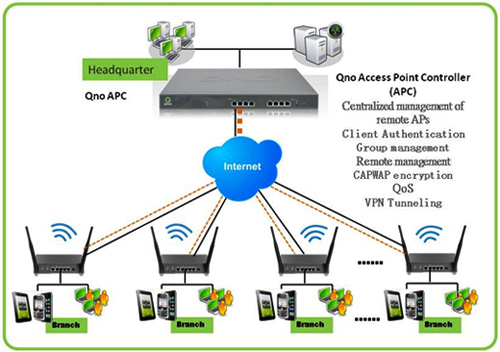 2. Hotels
Due to their size, density and complexity, one of the more difficult tasks for hotels is providing a complete coverage of Wi-Fi service to guests, whether they're in the lobby, dining in the restaurant, in the meeting room or hotel rooms. Qno APC gives technicians the ability to monitor the statuses of all provisioned APs, and fix any issues as it happens.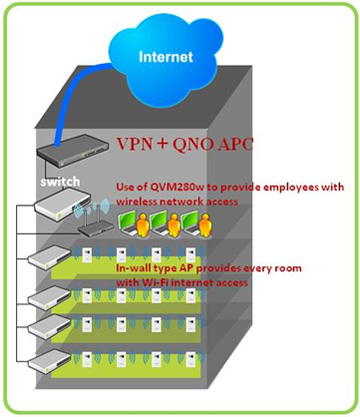 3. School
With students being challenged through a wide and varied curriculum and technology embraced as a key tool for learning, and teachers providing various other sources of information to supplement their teaching. Providing an easy access to all this information for students and teachers wherever they are within the campus is an even bigger challenge to schools. Furthermore, the method of access by the students and the faculty must not only be stable but secure, all the while without constant IT intervention. Qno's APC robust and secure features allowing administrators to manage user's connections with ease. It also provides a reliable wireless connection, while giving a simple and centralized management interface for the technical staff. For indoors, such as the library, classrooms and teacher's offices, the technical team can remote monitor all APs and resolve the problems as they occurs. Such as, increasing the neighboring APs transmission power when one AP goes down, to ensure an uninterrupted connection.
Supported Models
FQR7201、FQR7203、QVF7303、QVF7305、QVF7415


Topology of Application

Qno APC is able to centrally manage and administer remote APs and users' access to the WLAN.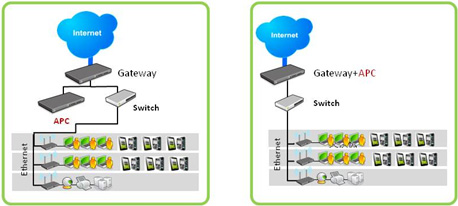 Qno APC supports Bypass Structure for Control Plane and Data Plane. Use of Data Plane for ease of provisioning the APC on existing network architecture. On the other hand, Control Plane eliminates the needs of a separate Gateway, thus saving costs.