Wireless Media Application
WCS-2000
Wireless Conference System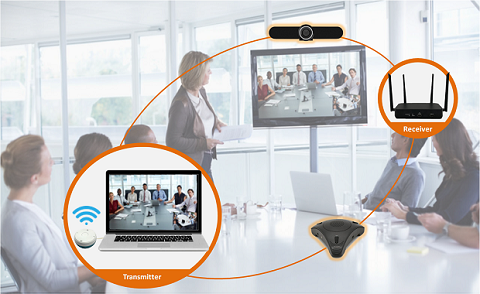 Make VCD Free
Breaking the limitation of traditional wired conference setup, use wireless transmission with VCC (Virtual Cam Client) software, allowing participant to start a video conference using a laptop, meeting participants can wirelessly capture the video conference equipment (USB Webcam, USB Webcam, USB Mic, Speaker) in a meeting.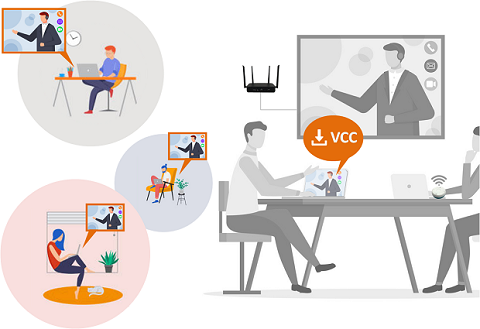 Make Main Display Share Easy
Using wireless transmission and VCC (Virtual Cam Client) software, when participants' laptops start a video conference, they can wirelessly capture the screen projected from the transmitter to the receiver screen in the conference room and share it with all participants in the conference.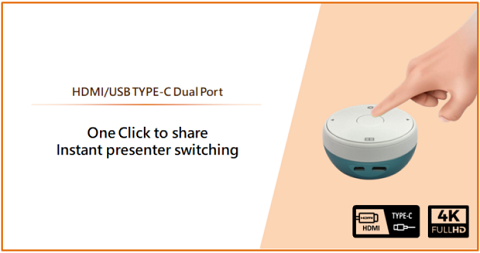 4K Content Wireless Sharing,Instant switching between users
Support 4K 3840x2160 high resolution, exclusive standard HDMI/USB TYPE-C dual port, plug and play without any installation required. Simply press the transmit button, and the content of the presentation is immediately transmitted to the projection screen; other participants wishes to switch the projection screen, they only need to press the transmit button to switch the projection content, which simplifies the process of plugging and unplugging cords and interfaces.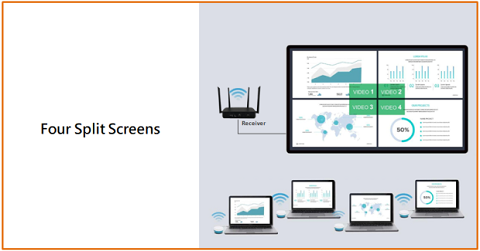 4 Split Screen
No need to set up, click the send button, and the content of the presentation can be projected on the projection screen in sequence. Up to four split screens can be displayed at the same time, Vital information can be displayed on the main screen at the same time, speeding up the discussion process of the meeting.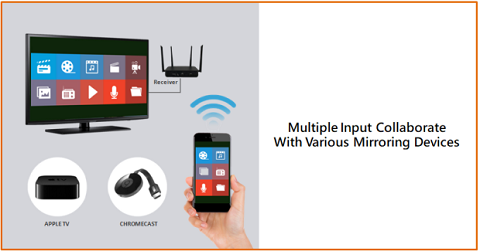 Mobile Device Easy Sharing
Standard USB power supply, and HDMI dongle connection port, can be connected to ChromeCast and APPLE TV. This way, not only laptops, but also mobile phones and tablets can be wirelessly projected in real time to meet various usage needs.