HOME
>
NEWS
News & Notice

Qno access point control solution is a revolutionary product which distinguish from majority access point on market. most of APs can only be used individual spot, however, QNO access point control solution solve all problems and IT into new era.

Graph: QNO access point solution includes (from the left) access point controller, table mount AP, ceiling mount AP and wall mount AP.
On comparable with general product on market that distinguish it with fat and thin AP, QNO AP can support three modes which are local AP by APC server, standalone and remote. Whether you're deploying a Wi-Fi connection in a single location (local mode) or multiple locations between headquarter and multiple branch offices (remote mode), QNO's APC solution is your best choice!
QNO for its APC solution product line has added "Map View" feature. All APs will be display on floor map or google map which internet manager can unified manage APs through the website mode interface. The new interface relatively visual, from modify AP setting, reboot, upgrade and checking AP condition…etc can all be done on the simplified interface. The method has improved the time consuming work drastically. "To see is to believe" as the slogan of QNO access point controller, you can control everything you see!

Picture: QNO AP complies with CAPWAP protocol, automatically connect to APC as soon it plug on. The AP will display on interface as it pass safety gate, IT managers are able to remotely control APs afterwards.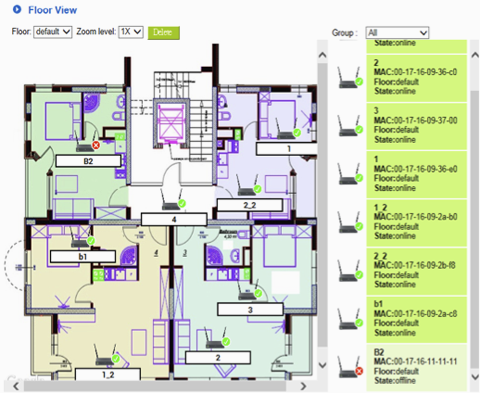 Picture: QNO access point controller contains "floor view" feature. IT managers input the floor map and identify AP location to maintain APs. Any dysfunction occurs, map shows with AP red cross sign and report to IT to tackle the issue.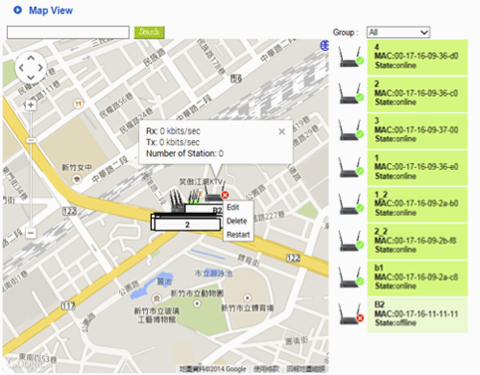 Picture: In remote configuration, map view is the function that allows IT managers to monitor APs on google map.
QNO access point controller is a VPN based router, not only can it solve all problems for all APs but only contain functions like load balance, QoS, firewall, PPTP, IPSec, SSL VPN…etc. From basic router functions to the new access point control, QNO router all perfectly performed, greatly suitable for users controlling budget.
If you would like to know more about APC, wireless coverage, please visit QNO website: www.qno.com.tw; or email to QnoSales@qno.com.tw