HOME
>
NEWS
News & Notice

Qno Appears in 09 Taiwan Broadband Exhibitions
-----With Brand-new technology and products
——Taiwan has been already famous for its network communication all over the world. Production of WirlessLAN, xDSL, router, Cable television network, Ethernet Switch ranks first, which also makes it competitive in world market. And this gives it the opportunity to hold Broadband Taiwan Exhibitions.
The 3-day Broadband Taiwan Exhibition opens in Taipei World Trade Center on 26th, Oct., 2009. There are two areas for Wimax and Broadband exclusively, including nearly 300 booths for 132 exhibitors. Numerous relevant companies come from the world and took part in this exhibition carrying with their new products and technologies.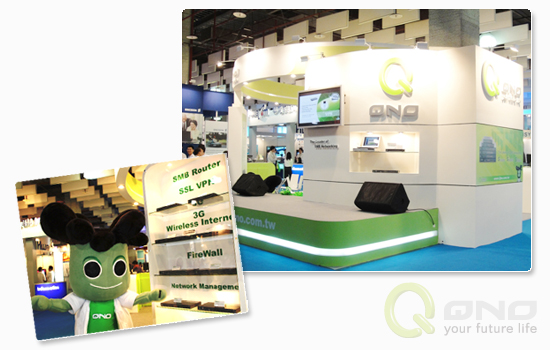 As one of them, Qno Technology Inc. has 20 years experiences in network industry, mainly focus on small and medium enterprise router, VPN devices. In this exhibition, Qno brings its newest products specially designed for SMBs. Keeping "Secure, Speedy, Simple" in mind, Qno would like to let more SMBs overseas know Qno routers and provide a better service for them.
Since 2004, Qno has been becoming more and more famous in both sides of the Strait, particularly for its Multi-WAN and VPN routers. Multi-WAN routers include FVR and GQF series, which are of Multi-WAN, Firewall, Load Balance, QoS Management, and Strategy Routing and so on. Mainly committing itself to cyber cafe, schools, SOHO, and SMBs, Qno router earns a comparatively higher competitiveness in similar products. And for VPN router, Qno provides not only IPSec VPN, but also SSL VPN and the complex of IPSec/SSL VPN products. QVM series with central management, SmartLink 3 setting and VPN Hub have been fully recognized by SMBs and gained certain market share among various Home and Abroad products.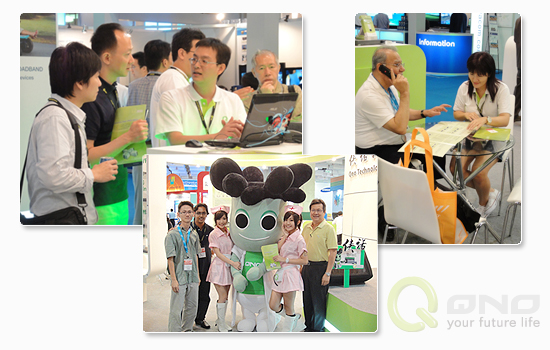 In this exhibition, Qno mainly displays two new products and two new application technologies except its traditional products. One of the items is QnoSniff2.0, fully monitoring staff's online behaviors, such as browsing websites, IM chatting, mails forwarding, traffic and P2P; another is Router with USB 3G wireless Internet connection for enterprise network applications. Then comes to the two applications, Inbound Load Balance aiming at distributing part of the Internet users' visiting to assigned lines for improving companies network efficiency; VPN QoS guaranteeing VPN's bandwidth, meanwhile making flexible rules. Above are all designed for SMBs' special requirements. With high practicality, lots of agencies show their interest in it. This exhibition gets a success.