HOME
> Solutions >
Solution
Solution
Qno QVF VPN solution for Voice Communication
Increasingly companies are founding their factories or branches on oversea for development. The inevitable telephone spending in communication is becoming one of their highest expenses. These bills bring enterprise supervisors a lot of pains. So how to decrease spends on telephone is what many companies are working on. Under this condition, VOIP, Video Conferencing and Data Inter-Transmitting appeared.
But for VOIP users, there appears another problem, worse and worse voice quality, also more and more severe voice delay/lag because many ISPs in some areas have bandwidth controls over VOIP or even block VoIP traffic. They have to give up VOIP and pick up the expensive telephones for long distances or oversee.
As a matter of fact, for above issues, it could be very simple to be solved by integrating VOIP in VPN, which is one of Qno QVF VPN Router's features. Beside of this characteristic, it also integrates Video Conferencing and Data Transmitting in VPN tunnel. Because of these designs, it is becoming more convenient for information transmission and data delivering among companies and factories. What's more, there is no restriction and additional fee in Video Conferencing and VOIP. By using Qno QVF VPN Router, these companies save telephone spending and only have to pay expenses on broadband access, which costs comparably less. In this way, they save money and get a confidential protection.
Here is an example: X Company in Taichung, Taiwan, purchased two Qno QVF VPN routers, which featured 4-WANs and 90Mbps Data Encryption rate, one in Taichung and the other one in Dongguan, China. By its high-performance Virtual Private Network, the user could carry on Video Conferencing, VOIP and Data Inter-Transmitting without worrying about the encryption rate. Besides, Data Transmitting through VPN can escape from ISPs' controls on bandwidth in Mainland in order to make sure VOIP's quality. Many VPN products in current market have a low capability to carry out VOIP and Video system after Data Transmitting. While comparing with them, Qno QVF VPN Router's Intel IXP 533 CPU, hardware VPN encryption engine, and 4-WANs can solve these problems, realizing win-win in lower-cost and higher-safety.
Below is the Topology: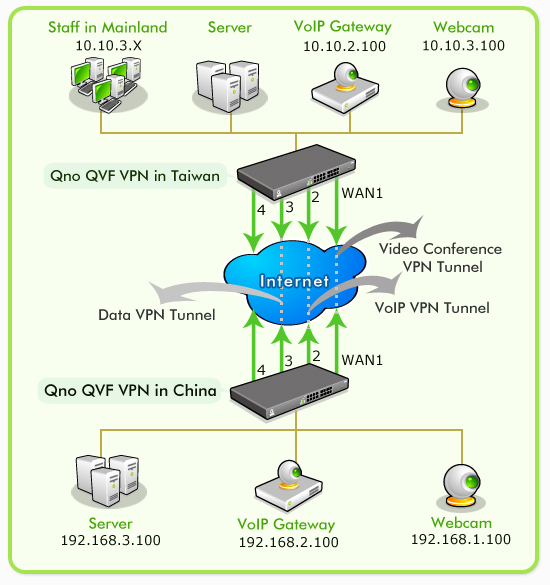 The practical configuration format as follows:
Qno QVF VPN Router in Taiwan sets a Class B segment192.168.0.X: 192.168.1.100 for Video Conferencing devices; 192.168.2.100 for VOIP Gateway; 192.168.3.100 for Server.
Qno QVF VPN Router in China sets a Class B segment10.10.0.X: 10.10.1.100 for Video Conferencing Devices; 10.10.2.100 for VOIP Gateway; 10.10.3.X for Staff.
VPN Tunnel 1 in Taiwan WAN1 connects to China WAN1 for Video Conferencing devices.
VPN Tunnel 2 in Taiwan WAN2 connects to China WAN2 for VOIP Gateway.
VPN Tunnel 3 in Taiwan WAN3 connects to China WAN3 for Data Transmitting.