HOME
> Solutions >
Solution
Solution
Hotels Demands in Router
In such an information time, network is already becoming a vital impulsion for industries' development. So is for Hotel. How to be more competitive mostly depends on its informatization process. In overall terms, there are two kinds of broadband requirements for Hotel. The first one is for independent hotels, who are asking for smooth, stable and strong networks. The other one is for chain hotels, seeking for more comprehensive networks among Headquarter, branches and mobile users.
After contacting with many hotels which have to access broadband, Qno, as an expert on Router, finds their requirements as follows:
A stable and long-running environment: No matter what kind of hotels they are, chain hotels for VPN or independent hotels supplying normal surfing, they are both requiring a reliable and steady continuous network operation for online computers.
Separate management on VPN and Public Network: This is typically for chain hotels. Establishing VPN tunnels, network administrator can have clear and exclusive network among very hotels in the group and separate this VPN network from ordinary Internet usage of hotel guests for a better efficiency.
Restrictions on heavy download: Broadband misusage such as BT, Thunder has already bothered hotel runners for a long period, influencing other users' speed in accessing the Internet.
Controls on online behaviors: For a better working efficiency, Hotel really hopes its employees no IM chatting during working hours.
Virus preventing from both intranet and internet: Service Industry is devoting itself to a better service. So for supplying a better online quality, hotel runners hope some effective solutions against hacker, ARP and so on.
Easy configuration: As the fact that many hotel employees are not professionals in operating the network, easy installations and configurations will be better for them.
Qno Solution for Independent Hotel
Main features of this solution:
Smart QoS Bandwidth Management for effectiveness
As the referring complaints about bandwidth misusage, thus slow-speed connectivity to the internet, Qno specially develops this function. It can list the IPs which used too much bandwidth for observation, then making punishment for continue overusing bandwidth. In this way, the network administrator could easily have restrictions on such inappropriate behaviors, meantime guaranteeing other users' minimum bandwidth in accessing the internet.
Powerful Firewall for security
Everyday there are millions of guests coming and getting out of hotels. So for hotel runners, considering of safety, the network itself must has some mechanism preventing all kinds of hacker, ARP and worm virus invasion. With build-in firewall, Qno Router does very well regarding of this problem. SPI inspect the passing-by packages and Auto Bi-biding IP/MAC stops ARP attack effectively. Moreover, one-click can make controls on staffs' IM chatting hence improving working efficiency.
VLAN to decrease virus diffusing
Qno VLAN not only restricts virus and useless information, also avoids Broadcast Strom.
Dynamic IP Environment
Qno VPN products all support various DDNS, such as QnoDDNS, 3322.org, DynDNS and so on, making users enjoy a reliable high-speed VPN connectivity.
The Topology as follows: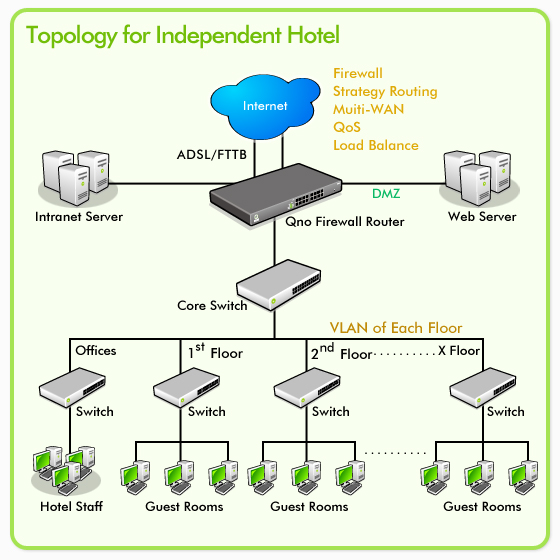 Qno Solution for Chain Hotel
Main Features of this solution:
Supportive for lots of protocols
Hotel headquarter is the center of data transmission, connected with all branches in different locations and the business travelers. This makes Router a necessity which is able to support many VPN protocols for various connection types. Qno VPN Firewall series can support PPTP, IPSec VPN, SSL VPN, etc. and also easily connect with other routers, realizing the real-time information sharing of ERP, room booking and other applications.
Fast VPN connection
For branches, Hotel had better deploy IPSec VPN Router because of its superior security. Based on IPSec VPN, Qno launched SmartLink setting. Only IP, User Name and Password, users can establish its connection quickly and easily.
Central Control
Qno QVM series support a central interface for network administrators to watch 200 braches at most. They can also make settings of each router through VPN, which is very safe and efficient.
Able to intercommunicate among branches
Without configuring VPN between two branches, Qno special VPN Hub can realize each branch's connection through Headquarter. Moreover, different ISPs' existing sometimes causes cross-network issues. Thanks to VPN Hub, Users can also visit other ISPs different from its own one under the help of VPN Hub, improving the efficiency.
Multi-WANs
Qno multi-WAN designing, for one thing, provides a backup interface in case of VPN losing connection. For another thing, through Protocol Binding, users can bind certain applications to assigned interfaces to guarantee the bandwidth. By separating VPN and other services to different WAN interfaces, VPN connection performs stable not interfered by other applications.
QnoKey IPSec
It always happens that managers, business men or purchasing staff are on business travelling and they need connect to Headquarter or branches to get information. However, they have little knowledge about VPN Router setting. At this time, users can realize their purpose after typing user name and password with a QnoKey.
Excellent Extending
Considering of business development, Hotel may have potentials to establish more branches in different locations. Qno VPN Firewall series have flexible capacity for more demands. Multi-WAN can connect more ADSLs for extending bandwidth and saving cost as ADSL is much cheaper than Optical Fiber. Qno VPN products also passed International VPNC and are compatible with other routers providing users a various choice.
The Topology as follows: