HOME
> Solution >
Case Study
Case Study
Qno QVF 7303, Superlative Choice for Internet Café in Philippine
I. Background Information
As one newly rising industrialized nation, Philippine attracts lots of foreign investments. Along with this there appears enormous labor moving around far away from home. To keep connection with families and friends, undoubtedly Internet will be the best choice in 21st century. This is easy to explain why there is stupendous demand for computer and numerous Internet Cafés emerging in Philippine. Most of these Internet Cafes are small size with 30-50PCs and basically provide Instant Chatting like MSN, Skype, Yahoo Message and games.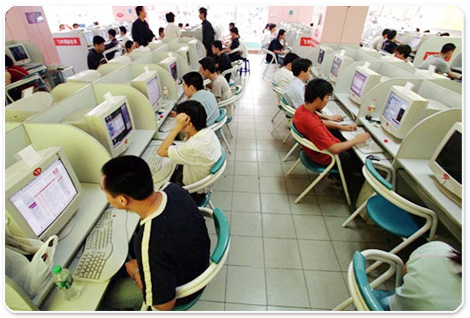 II. Demand
As one essential component of the computer networking to enable any sent data to arrive at the right destination, Internet Café runners have to choose the proper router with embedded gigabit ports to connect to the diskless system and gigabit switches in LAN. Besides, they also hope it is:
Easy in management:
In Internet Cafes, bandwidth usage is different among different time periods. For administrators, they should guarantee each one can access the Internet in peak and transfer unused bandwidth to people who need. In this case, a simple and clear configuration will be wonderful for nonprofessional administrators to allocate bandwidth effectively and maintain the networking.
Able to extend bandwidth:
The increasing applications require more and more bandwidth. Considering of Optical Fiber's high cost, most of Internet Café runners take several ADSLs to replace it. But this brings administrators new problems. How to manage these lines centrally and use the bandwidth flexibly? It asks the capability of Load Balance and line backup, as well as the optimization of external bandwidth use and the reinforcement of a stable connection.
Stable in connection:
In Philippines there are 3 ISPs: Globe, PLDT or Bayan Telecom. Sometimes, because of small bandwidth, inter-visiting between different ISPs is not smooth and stable, hence influencing the speed. They need a smart routing solution.
Fast in transmitting:
Common applications in these Internet Cafes are Games, Browsing, Chatting, Video and Downloading, especially the comparatively small packets like Gaming and IMS requiring higher transmitting speed.
Higher in security:
Computers will unavoidably get attacked since users are changing all the time in Internet Cafes. Additionally buying firewall certainly increases the cost. A multi-functions Router with advanced firewall to deal with ARP, DoS and other virus will be the perfect solution.
Flexible in ISP Access:
In Philippine, different places have different ISPs. But for specific ISP, they are looking for wireless access.
III. Features
Referring to above problems, Qno recommends QVF7303, 3~4 full gigabit interface QoS VPN Firewall router, for Philippine Internet Café runners. Embedded with MIPS64 network processor, it is able to handle 2 billion instructions to reach 2Gbps bi-direction transmitting speed. Below are the outstanding performances it owns:
Optimized Multi-WAN Utilization
Qno Multi-WAN ports can simultaneously realize bandwidth extending by accessing more ADSLs, which saves money and improves the efficiency. With Load Balancing, each line will get a reasonable utilization by averagely assigning online sessions/IP addresses, thus optimizing the current existing bandwidth.
Reasonable and Effective Bandwidth Management
QVF 7303 possesses Qno Classical QoS Bandwidth Management. Administrators could set rules to precisely allocate bandwidth to each IP and/or service by limiting the maximum available bandwidth and guaranteeing the minimum bandwidth.
However, if there are just a few people on line, by classical QoS, the remaining bandwidth wouldn't get used. While by Qno's exclusive SmartQoS, administrators can resolve such wasting successfully. It just needs several parameters to dynamically manage bandwidth utilization. Users can acquire the bandwidth freely when there are few users in local network. In addition, Penalty Mechanism in SmartQoS can list IPs which used too much bandwidth for observation, then making punishment for continue overusing bandwidth. Moreover, SmartQoS can be enabled according to different time periods to fit into local network environments.
Another noteworthy is its exclusive L7 Web QoS. It can set bandwidth for different web applications, avoiding one application taking up too much bandwidth to influencing other services. To cite an instant, if you set a reasonable bandwidth for webpage videoing under Web QoS, it will move on fluently without stagnation. This is especially fit for Internet Cafes.

High Security
QVF 7303 is a highly integrated device with build-in powerful firewall and management system. Router can deny or block non-standard protocol connections via dynamic detection of the network layer. Also SPI can filter the passing-by packets from bi-directions in the 1st place aiming at Worm Blaster, Trojan, DoS Attack and other kind of virus. With build-in ARP anti-attack ability, Router can bind IP and MAC addresses automatically without setting up software.
For common DOS attack, it also possesses the ability to filter short package, fragmentation package, ICMP, SynFlood and TCP/UDP. What's more, Access Control and Application Filter help on controlling your network operation.
Stable Online Environment
QVF 7303's Line Back-Up could reconnect to the destination in a real-time from other WAN ports when one of the WAN ports loses connection, ensuring an always-on connection. Strategy Routing can diverge the traffic from different ISPs, avoiding the stagnation among different ISPs in certain areas and helping the network run smoothly!
IV. Evaluation
QVF 7303 has already been used in a lot of Internet Cafes in Philippine and gained approvals. Most of the Internet Café runners said it is effortless to operate with easy-to-use GUI management interface and they really like the Smart QoS Bandwidth Management. Besides, it is very helpful to have 3G/3.5G USB port for wireless Internet. They all agree the high performance and stability QVF7303 shows.