HOME
> Solution >
Case Study
Case Study
SSL VPN for Real Estate Agency
Qno SSL VPN Routers assist New Mainland, a real estate agency in China, to quicken its expansion.
Real estate is developing as one of China's pillar industries with strong demand following the high GDP growing rate in the recent years. To meet the rapid growth, real estate businesses must integrate the construction managements, property managements & real estate agency services together and run the business in chain store model or franchise organization. However, to have a smooth and quick expansion, the high-efficient management plays an important role and it needs a significant factor, informationization. Undoubtedly, SSL VPN takes a great proportion of this process.
The basic job of realtors is to show clients around the housing resources. They need to grasp the newest data of clients and selling status, even on the road. To centralize these databases, real estate businesses normally choose different software to manage various data information. All data from sales offices, estate managing offices and realtors should be reported to Headquarter. For those companies with better informationization, the OA, ERP, or finance systems could be deployed to branches, sales offices, estate management offices, and etc.
However, how to easily and safely access the databases at anytime in anywhere? SSL VPN is the answer with low cost, easy establishment, and more important being able to combine with applications of OA, Web, ERP, and remote control. Many real estate companies are choosing it as network foundation to realize businesses efficiency. New Mainland Real Estate Agency Ltd. (NM) is one of the examples in successfully deploying IPSec VPN and SSL VPN according to its own requirements.
Founded on 10.1, 2004, New Mainland is one real estate agency to market, sale & rent mansions in Nanning, Guangxi province in China. Over 5 years' developing, its businesses have got a comprehensive promotion and have more than 30 branches radiating in Nanning city. It is becoming one of the most important and influential companies in Nanning real estate industry.
For the time being, New Mainland relies mostly on informationization of business system such as OA, CRM, project planning & management, that all of them need being online to access. Only in this way, staff can deal with customers anywhere & anytime. By implement SSL VPN, staff can securely visits to company's Intranet, process e-mail, share files and documents, write report on CRM, and proceed any other tasks from hotel, Internet Café, or at home. Moreover, New Mainland's system serves not only its own managing person, but also its clients to provide convenience for housing resources check, member registration, online trading and so on.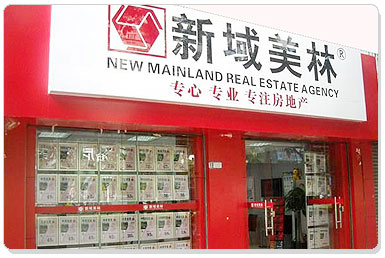 Application Solution
Bringing "3S" (Secure, Speedy and Simple) on mind, Qno highlights its simplicity operation on VPN design as always, but ensuring the network access smooth and safe. It makes Qno SSL VPN products to be the ideal devices for SMBs. Based on New Mainland's demand on VPN and PC numbers in its local network, Qno professional FAEs give their suggestion on New Mainland 's VPN solution: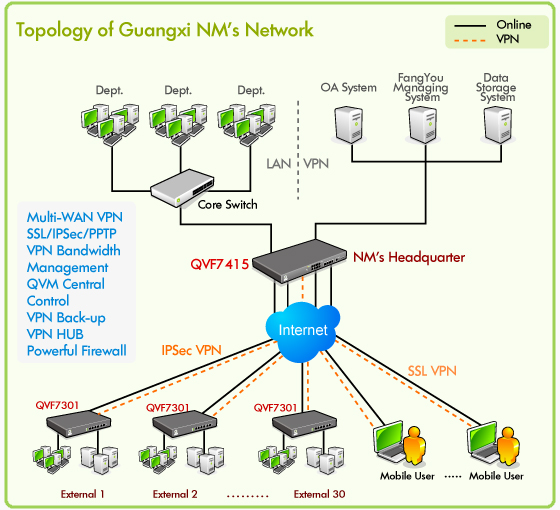 In Headquarter, Qno recommends QVF7415 as the core VPN gateway which supports SSL/IPSec/PPTP protocols. In the rest of 30 branch offices, New Mainland deploys Qno QVF7301 as cost effective solution. For businessmen and mobile staff, they can connect back to headquarter using SSL VPN with no VPN hardware installation. For administrators in Headquarter as whole network controllers have a unified management on the 30 branches and mobile users.
Advantages of QVF7415
Easy Installation
No installation in clients is one significant feature of Qno SSL VPN, which saves energy in managing and cost in buying. Only deploy one Qno QVF7415 in headquarter, users in branches or other places can visit headquarter database just opening browser and signing in. As data traffic through SSL VPN tunnel is encrypted, users don't have to worry about the information leakage.
Central Control
After being connected by SSL VPN and IPSec VPN, housing information of any offices can be handled in Headquarter together and be checked in real time. The difference is that administrators could control the access behaviors of each SSL VPN users while IPSec VPN is more suitable for establishing fix and stable secure tunnels between headquarter and branch offices.
Easy to Expand in Future
Qno QVF support SSL/IPSec/PPTP so it gives users many options on VPN connection. If New Mainland needs to establish new branch, it can just choose the most appropriate VPN mode according to the local situation and the actual demand, getting out of some restrictions from ISPs. Also, Qno QVF7415 possesses powerful dual-core hardware platform and multiple application functions; its extensibility is very capable.
Above the listed features, Qno VPN routers have built-in firewall to guarantee a secure environment without buying special firewall devices additionally. Beisde, QVF7415 has formidable deployment in hardware; it can be used as VPN gateway and network router at the same time to save IT expense. By using VLAN to divide the Intranet and VPN network, it is easier for network administrator to manage the whole local network and keep the security of the data servers in headquarter.