HOME
> Solution >
Case Study
Case Study
Qno QVF7415 Help Daoxiangcun to Build VPN Network
"Daoxiangcun", Chinese traditional brand in pastry, is one of the oldest and most influential brand among food industries which was founded in 200 years ago. Rely on its deep culture, exquisite craft and excellent quality, people give the title of "cake maven, pastry ace" to praise its accomplishment. Beijing Daoxiangcun Foodstuff Co., LTD assembles research, produce and sale, and sets up factories in Beijing and Suzhou. It runs hundreds of food from cake, moon cake, bread to leisure food, and right now the annual sale volume breakthroughs ten million RMB.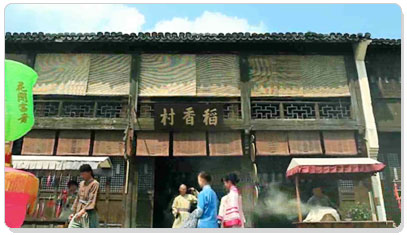 Chinese Traditional Brand Daoxiangcun
Demands
As a famous brand with quality guarantee, its sales region has covered Beijing as well as provinces of North, Northeast, and east China. To make fully use of existing IT resources, engineer of Daoxiangcun's network, Mr. Zhu, points out that the top management team and relative departments all agree to re-build network to accomplish below points:
A real-time and stable VPN connection to visit and access the resources in Headquarter anytime and anyplace; A easy of use and flexible in configuration to decrease time and efforts for administrators in maintaining the network of Headquarter and branches; A High security to protect information exchange among each branch, mobile businessmen and working partners.
Solution
With the advantages in multi-WAN VPN firewall router, Qno is successfully handing out a perfect solution: For Headquarter, a Dual-Core SSL/IPSec VPN router QVF7415, fits for a more steady and speedy network demand. For branches, they use QVF series with SmartLink VPN function to simplify the VPN building which needs only router IP address, user name and password. For mobile businessmen and cooperate partners, they can utilize SSL VPN which don't need to install software to establish secured data tunnels.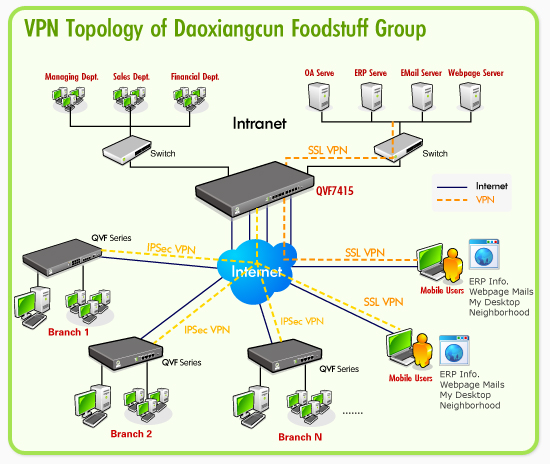 Figure: VPN Network Topology of Daoxiangcun Foodstuff Group
Embedded with MIPS64 dual-core network processor, QVF7415 shows its excellent functions in this solution as follows:
Fast in setup: Administrators connect headquarter and branch offices by SmartLink VPN which needs only User Name, Password and router IP address. For remote users, they just open the web browsers and enter User Name and Password in the portal page, then get resources accessing on SSL VPN portal page.
One-Click Configuration: To manage the entire SSL configuration, QVF7415 has 4 templates for different user groups: All Users, Supervisor, Branch Staff and Mobile User. Administrators can apply these templates directly and finish SSL VPN setup. Besides, network administrator can set the login User Name and Password of SSL VPN to be the same as other applications such as ERP and CRM, users only need to do one time login to access applications through SSL tunnel.
Highly increased security: QVF7415 allows administrators to set up expiration time of each user account. This can avoid the misuse and malicious attacks. Also, after user log out, QVF7415 will remove the Web Cache, Cookie and other records to give a second guarantee in security.
Except above distinctions, QVF7415 provides VPN Heart Beat function to detect the IPSec VPN tunnel status and reconnect VPN when there is traffic problem.
Evaluation
Mr. Zhu says Qno QVF7415 has shown its abilities of secure, simple and speedy referring to Daoxiangcun Foodstuff Group's rapid developing and future trends. Since implementing this solution, Internet connection and its network environment are steady and the efficiency is greatly improved, especially in managing the storage through ERP system. This solution is indeed a best way for their requirements with its flexibility, stability and speedy.