HOME
> Solution >
Case Study
Case Study
Swire Coca-Cola Beverages LTD., Taiwan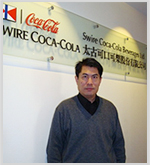 Liu Te-Chen
IT Director, Swire Coca-Cola Beverages LTD., Taiwan
"We need a simple but highly secured way for our field workers and home workers to access ERP, Email and File servers in our Headquarter to check the inventory lists, orders, and other documents. Qno's QVF 8230 SSL VPN Routers did the great job with its easy-to-use SSL VPN functions."
Analysis about Coca-Cola Taiwan's need
Swire Coca-Cola Beverages LTD., Taiwan is one Subsidiary of world-class beverage company "Coca-Cola". It has 11 branch offices in Taiwan. Office staff needs to visit customers and some may even work at home at various times, which asks secure access to the office network and application resources. But the users may have limited knowledge about IPSec VPN.
The Requirements
Qno's SSL VPN solution fits their requirement with its user-friendly feature perfectly. Below are several key factors and considerations when Coca Cola Taiwan is choosing a SSL VPN gateway:
Support all service servers in the headquarter
Minimize maintenance and management complexity
User-friendly Web UI for IT managers and remote VPN users
Implementations
After studying the requirements of Coca Cola Taiwan, Qno engineers suggested and demonstrated Qno's flagship model- QVF 8230 SSL VPN Security router.
In the field test of Qno QVF8230 SSL VPN security router, the remote clients successfully connect to intranet and access these application servers. This allows the remote workers connect to office network through a secure SSL internet pathway. They can access the ERP and Mail Servers as if they were in the office.
And QVF8230 SSL VPN security router integrates SSL encryption technology, IPSec VPN gateway, PPTP Server and firewalls in a single platform. Both SSL VPN and IPsec VPN facilitate robust remote access and site-to-site VPN services, no need for additional security devices. Therefore, IT manager saved a lot of IT budget for the company. In the mean time, they can minimize periodical maintenance efforts.
The management Web UI is simplified and understandable. Users can be easily categorized into groups and granted with different level of access authorities. The remote user only has to input the username and password on a web-browser to communicate with headquarter through a flexible and highly secure SSL VPN tunnel.
Conclusion
"The central administration is the largest benefit of the selected solution; it saves time and manpower. It is possible to administer the whole IPSec VPN and SSL VPN from one place which is a significant saving of IT budget for a company", evaluated by Mr. Liu Te-Chen.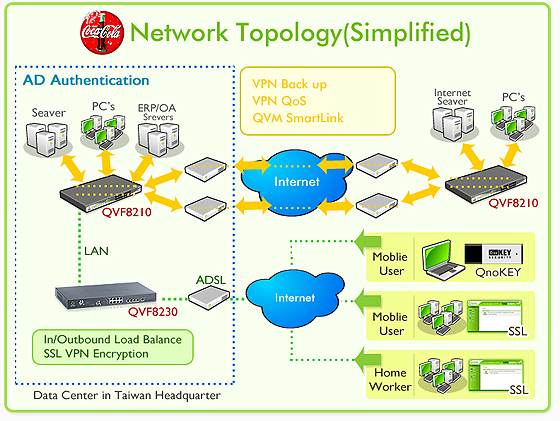 Key Benefits
Data Transmission security
Effective interconnection with headquarter for remote users and subsidiaries
Saving time for administrator
Advantageous price
Guaranteed operation reliability and safety