HOME
> Solution >
Case Study
Case Study
Qno SSL VPN Case Study – Financial Institution
Qno SSL VPN Helps China TIANQI Futures Company to Establish Stable Network
Nowadays, financial companies rely on the Internet to carry on applications like Online Deal, Information Monitoring, Trust Management, Office Automation (OA), File Transition and E-Mail. In a word, the business' daily normal running is basically through Internet. As European debt crisis has lasted for several years, these companies suffer heavy losses. Corresponding with the decreased investment, they are looking for more secure network to lower down the cost in labor and devices. So the larger the businesses are running, the more steady, safe and convenient networks they need. At this time, high-performance but low-cost devices will help them achieve benefits easier.
TIANQI Futures Co., LTD, as one of financial institutions in China, was founded in 1996 and purchased by China Jianyin Investment Securities with registered 3 trillion RMBs capital. It mainly runs commodity futures and monetary futures. At the end of 2009, it headquartered in Shenzhen Futian, and sub distributed around the country in Beijing, Dalian, Changchun, Harbin, Daqing and Jiamusi.
In early 2011, to develop its online managing range and increase deals, also to share and communicate with other branches more instantly and efficiently, TIQNQI Futures thinks of rebuilding its virtual private network. After a comprehensive consideration from the devices cost, maintenance to flexibility in future extension, they finally decide to choose Qno QVF7412.
Qno SSL VPN Solution
In TIQNQI Futures' intranet, there are OA Servers,ERP Servers and about 60~80 PCs which need to connect with Internet. It also owns 4 lines accessing the Internet: one for 5M Telecom Optical Fiber, one for 5M Netcom and 2 for 8M ADSL. Their demanding includes managing communication and information flow in the intranet; extending network to developing businesses, and making sure all branches are able to visit OA and ERP Systems in the Headquarter safely and steadily.
In Qno's solutions, QVF7412 undertakes above requirements: 4WAN ports for ADSL, Optical Fiber and other kinds of broadband accessing for flexible choices. By supporting SSL, IPSec and PPTP VPN protocols, TIANQI Futures' branches can choose anyone of these 3 VPN types to connect with Headquarter. Because SSL VPN and PPTP don't need additional devices, it is very costless, too. What's more, Qno SSL VPN has very secure protections in encryption, authentication and privilege control. That's why Qno suggests it to TIANQI Futures. Below is the Topology: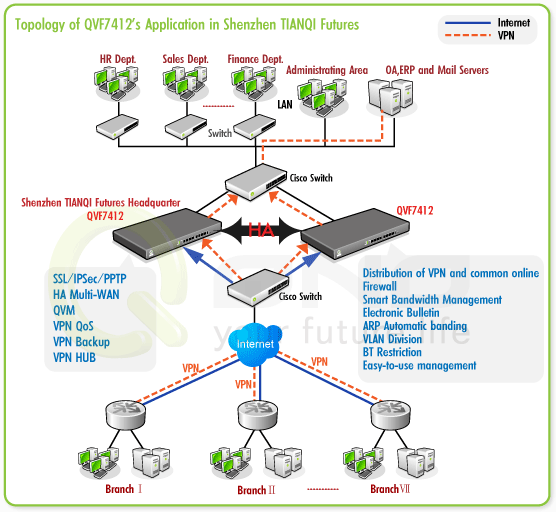 3 Features to Stand out All, Most Stable Network It Brings
QVF7412 has high-efficiency dual-core CPU, which performs very well in data transmitting, anti-attacking. Besides, it is provides TIANQI Futures solid and faithful network by below 3 features:
Exclusive Routing Mode: Dividing each line's loading flexibly and successfully guaranteeing a smooth and steady Internet connecting. Exclusive Routing is loading specific data packages on certain lines by protocol binding. In this way, the traffic won't be too crowd for each line thus the connection won't disrupt. For instance, in TIANQI Futures' solution, administrators bind applications like webpage and QQ with Telecom Optical Fiber, servers in North Sales Department with Netcom Optical Fiber, the other visiting through the rest of 2 ADSLs. This makes the whole network running fluently.
High Availability (HA): Lower down the risk of devices' broken thus for a stable network system. HA is using 2 Qno routers to back up each other in case of one is lost connection with the Internet or broken. After TIANQI Futures deploying 2 Qno QVF7412 and setting HA, there is certainly no worry on online deals.
Bandwidth Management: Able to limit the bandwidth of each users/services for application's stability.
Qno's QoS function allocates and limits the file download and Web Video traffic on 2 ADSLs lines to realize a maximum on bandwidth utilization, also preventing Thunder and BT for taking too much bandwidth.
For monetary companies' network, the most important factor is stability. Only stable, it can go on fluent and speedy deals; only stable, it can perform to the extreme for all applications. With four in one functions like VPN, efficient management, back-up functionality and firewall, Qno QVF7412 becomes just this remarkable one for choice.