HOME
> Solution >
Case Study
Case Study
China Ministry of Commerce Adopted Qno Solutions for Center Network of Reports & Complaints System
China International Electronic Commerce Center (CIECC), an organization of Ministry of Commerce, has established a nation-wised Reports & Complaints System to service the public and help law enforcement. It chose Qno VPN routers to build up the network basing on the quality and stability of Qno devices.
Background
China International Electronic Commerce Center (CIECC) is one informationization organization of the Ministry of Commerce in the People's Republic of China's (PRC). This organization carries on the mission of national information and priority projects' proceeding & operating. As an organization of national level, it centers around the services of public, professional, safe, credit and disaster recovery. To create a national and international service platform of electronic commerce, CIECC builds and operates this service platform with authoritative stable and secure.
Trusted by the Ministry of Commerce, CIECC established 12312 Reports & Complaints System Center which is important to operate and manage domestic trade in a good order to strengthen market surveillance and enhance law execution efficiency. After establishment, it will form an all-in-one interactive mechanism to provide information platform for: law enforcement of Ministry of Commerce's administration; communication between the public and the Ministry of Commerce; information feeding of the government services about market order and business law execution.
To integrate 12312 Reports & Complaints System all over the country, it contains a national headquarter, 37 provincial-level control system, and more than 300 monitoring centers in all cities and counties. To join all the systems and centers together and provide stable hotline, it will lower the cost by using the internet connection, instead of using lease lines. But how to have a secured and stable network between those centers is one of the important factors.
Choosing Devices
Considering above situation, CIECC chose Qno Technology Inc., a leading developer of network security router and VPN devices, to propose the solution by connecting the whole Reports & Complaints monitoring centers radiated in more than 30 provincial and 300 prefecture-level cities with VPN to form a stable and speedy hotline network. It deploys Qno VPN series with IPSec, PPTP and other VPN protocols in the whole network's building, mainly QVF7301 and GQF7306.
GQF7306: Full gigabit VPN router with the flexibility and scalability in building up internal and external network. Embedded with MIPS64 advanced network processor, it is able to handle 2 billion instructions to reach 2Gbps bi-direction transmitting speed. It also Supports 300,000 sessions and capable to handle 500~750 PCs without stagnation. With 4 Gigabit WAN ports and 8 Gigabit LAN ports, this model is suitable for different kinds of network establishments and reserves the possibility of bandwidth expansion in the future.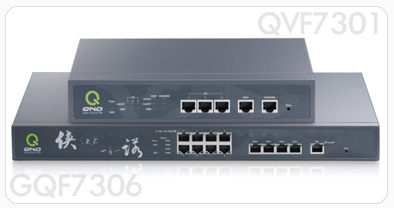 Qno QVF7301 & GQF7306
QVF7301: An ideal VPN router designed specifically for r Small Businesses & branch offices to access Internet and establish secure tunnels. High-Efficiency network processor makes it is able to Support 5,000 sessions 30~50 PCs. Build-in 2 WAN ports, 3 LAN ports to help businesses build stable network with Load Balance and Bandwidth Averaging.
In Headquarter, Qno suggests GQF7306 for the system center and QVF7301 for monitor point and use VPN to transmit VoIP and all useful data. In Headquarter and provincial centers, there are 2 GQF7306 deployed in each location to achieve HA (high availability). QVF7301 is implemented in each city center to establish VPN tunnel with GQF7306. For some city centers already deployed other type routers, Qno routers are compatible with them to build up VPN tunnels. Thus a VPN network is formed and became the powerful platform for 12312 Reports & Complaints System.
Topology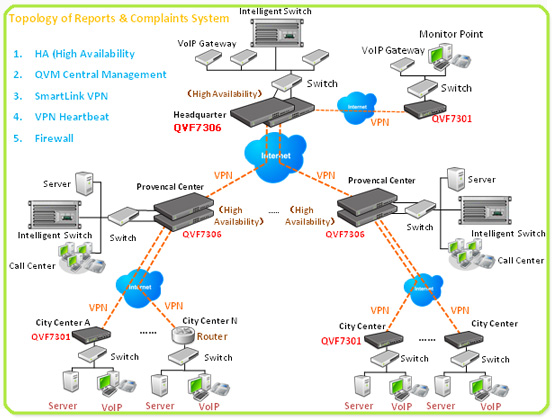 Distinguish Feature: High Availability (HA)
After several months' testing in 12312 Reports & Complaints System, Qno's solution shows fantastic stable and powerful. Except some basic router functions like bandwidth management and firewall, Qno's maturing VPN technology is also remarkable. Also, with HA, the Headquarter and provincial centers of this Reports & Complaints System can implement 2 GQF7306 to back up each other to guarantee an always-online network. When one of them is broken or crash, the other one will replace it and keep the connection smoothly going on. In addition, the 2 routers can also share the traffic loading and let the internet running efficiently.
Overall Evaluation
Since deploying Qno Routers, the whole network is stable and speedy, which help 12312 hotlines run smoothly and efficiently. The uninterrupted VPN connection totally satisfied the requirements of Reports & Complaints system, such as VoIP connection, data statistics, and information delivery.